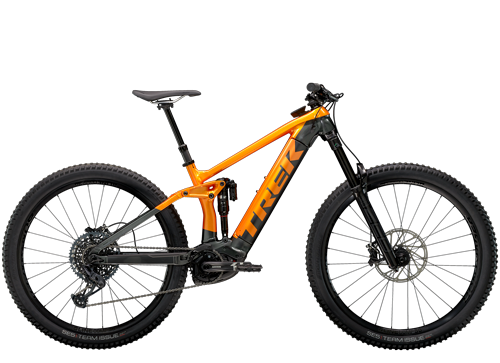 TREK RAIL 9 E-BIKE BIKE HIRE
Rail 9 is our top-of-the-line alloy electric mountain bike with long-travel suspension. It features a suspension set-up and parts worthy of the gnarliest enduro runs, and the powerful new Bosch drive system will get you back up the mountain faster than you ever thought possible.
Please note: All hire bikes come with flat pedals. We do not offer clip-in pedals but are happy to swap them over if supplied. 
All E-bikes include a full day mountain pass.
Our booking T's & C's have changed, please see our updated policy's HERE
Rider Height
153 – 166 cm
5'0.2″ – 5'5.6″
Rider Height
161 – 175 cm
5'3.4″ – 5'8.9″
Rider Height
174 – 188 cm
5'8.5″ – 6'2.0″
Rider Height
186 – 196 cm
6'1.2″ – 6'5.2″