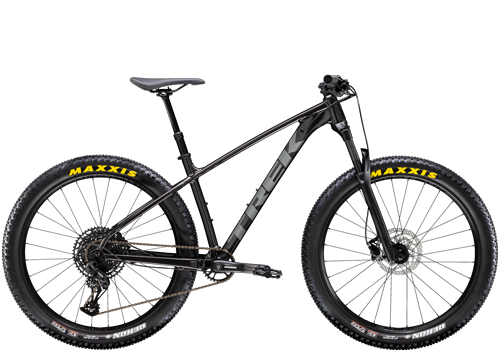 TREK ROSCOE 7 HARDTAIL BIKE HIRE
Roscoe 7 is a mid-fat trail hardtail for riders who favor a fun and lively ride. Confidence-inspiring 27.5+ wheels and plus-sized tires, a plush suspension fork, and a wide-range drivetrain with plenty of gears make Roscoe 7 stable enough for new riders, and playful enough to make even the most experienced shredders smile.
Please note: Our Trek Roscoe's are for use on the Lower Mountain Uplift & Climbing Trail ONLY
Please note: All hire bikes come with flat pedals. We do not offer clip-in pedals but are happy to swap them over if supplied. Hire bikes also do not include riding passes you can view our selection of passes HERE and book via the bookings page.
Our booking T's & C's have changed, please see our updated policy's HERE
Rider Height
137 – 155 cm
4'5.9″ – 5'1.0″
Rider Height
153 – 166 cm
5'0.2″ – 5'5.6″
Rider Height
161 – 172 cm
5'3.4″ – 5'7.7″
Rider Height
165 – 179 cm
5'5.2″ – 5'10.5″
Rider Height
177 – 188 cm
5'9.7″ – 6'2.0″
Rider Height
186 – 196 cm
6'1.2″ – 6'5.2″