Plan your ultimate Maydena Bike Park holiday with our comprehensive guide. Discover insider tips, explore our incredible trails, find the best passes and bikes, and uncover the top attractions. Get ready for an unforgettable adventure with our all-inclusive guide.
With nearly 100 trails catering to all riding styles and abilities, Maydena Bike Park (MBP) is a true mountain biking playground! Over the past few years, MBP has been expanding its network of climbing and connecting trails, creating a massive network of trail riding options to complement the park's renowned gravity riding offering. No longer just a gravity riding destination, MBP has something for everyone.
This guide was developed as a one-stop shop to help you plan your next bucket list mountain bike holiday, providing you with the best advice to maximise your time on and off the trails!
Why Maydena?
With more choices than ever for a mountain bike holiday, why choose Maydena? Below are some of MBP's key strengths, and some of the things customers consistently rave about.
Trail diversity: With 100 individual trails, MBP has the most diverse trail network in Australia. With trails ranging from beginner flow, through to pro-line jump and tech trails, MBP truly has something for everyone. MBP has Australia's biggest network of jump trails, which is always popular with our visitors!
Vertical elevation: MBP's 820m vertical elevation is unrivalled for a purpose-built mountain bike trail network in the southern hemisphere. Using certain trail combinations, riders can spend 1+hr descending from our summit.
Convenience: MBP is a genuine ride-in/ride-out bike park, with all trails finishing in the heart of Maydena township. With a café, restaurant, bar, and all our services right at the trailhead, MBP couldn't be any more convenient for those staying in Maydena! Unlike a public trail network, MBP has a team of staff always on hand to ensure you get the best out of your riding holiday.
Community: MBP is not a ski resort, and is built from the ground up by riders, for riders. MBP has evolved into a community of locals and frequent visitors that live and breathe mountain biking. This core riding spirit has created a supportive, fun community, keen to share their trails with the world.
Safety: MBP's trails are designed to offer gradual progression for all abilities. MBP is one of the few trail networks in Australia with a full-time medical/safety team.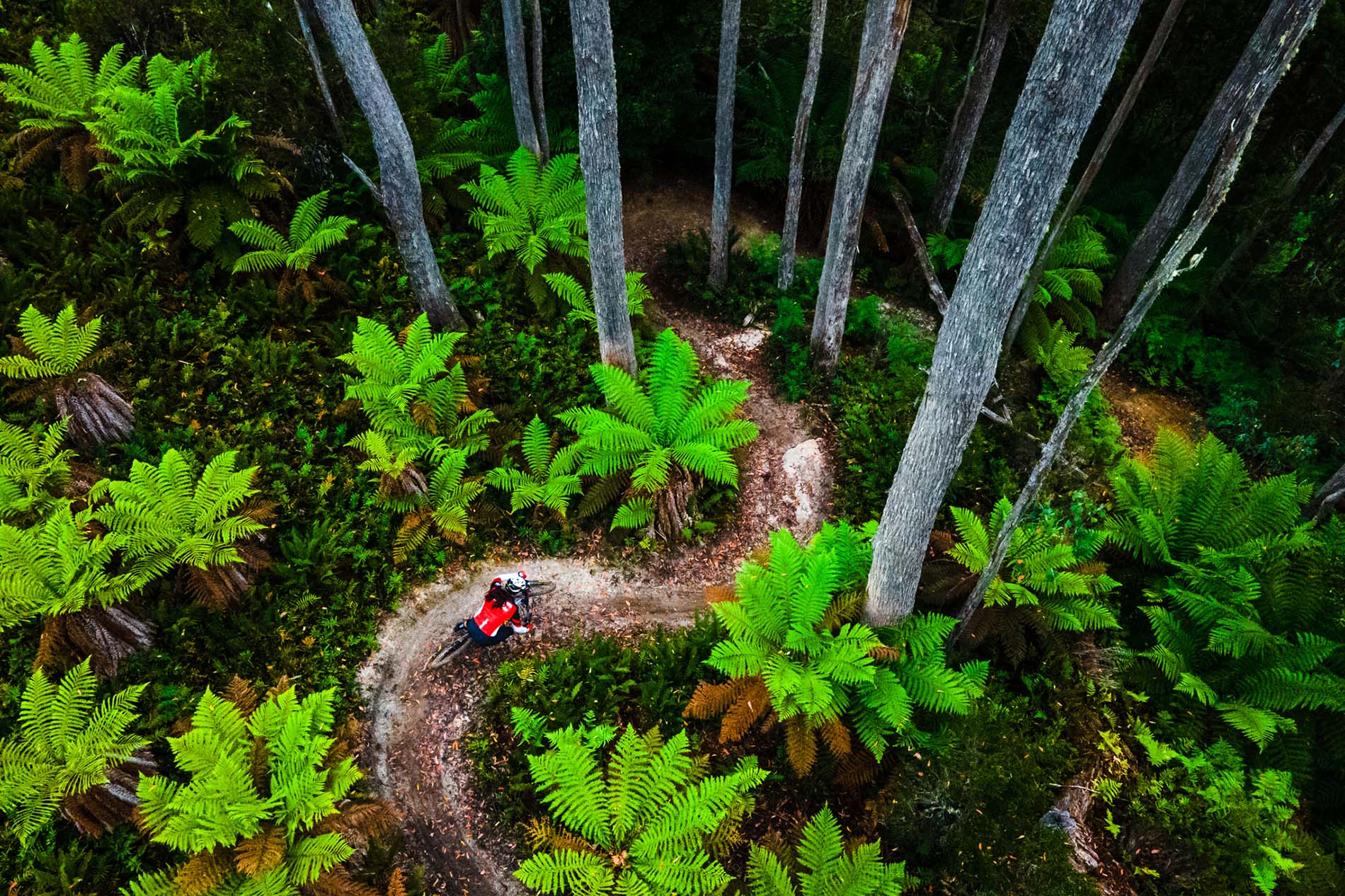 Getting to Tasmania
Tasmania might seem like it is located at 'the end of the earth', but getting here has never been easier. Direct flights to Hobart are available from several mainland Australian cities, including; Melbourne, Sydney, Brisbane, Gold Coast, Adelaide, and Perth. Direct international flights are available via Auckland (New Zealand). The Spirit of Tasmania ferry connects Victoria (Geelong) to Tasmania (Devonport) daily, with a further 3.5hr drive to Maydena
If you need transport to the park, we suggest the Maydena Express
You get more info on our Getting Here Page or over at our Recommended Transport Providers page.
How long do I come for?
In short, as long as you can! To experience the trails at MBP properly you will need several days. It will take an average of three days to ride most of the trails in the park once, and around five days to get comfortable with riding the more challenging trails in the park.
A common question asked is how to best plan a week of mountain biking in Tasmania? One of the mistakes commonly made is people trying to cram too many locations into a trip- while Tasmania can seem small, the driving between locations is often slow, with very winding roads. In a one-week trip either staying in Maydena and doing 3+3 days of riding, with a rest day or two in the middle, or adding one other location would be the best approach. Many riders will want to add Derby as their second location, which is a great option, but does involve a significant drive (~4hr). There is some great riding around Hobart (South Hobart, Mount Wellington, and the Meehan Range are the top picks), or you could look at one of the other major trail destinations as listed below;
Blue Derby: a great mix of enduro and trail riding with uplifts available (just be aware that you'll still need to pedal, even when uplifting). Derby has amazing rock features and some fantastic longer trail rides.
West Coast: rugged, remote trails, and genuine back-country riding. Queenstown is mostly uplifted enduro riding, and Zeehan is long-format adventure trail riding.
Wild Mersey: a mix of cross-country and enduro-style riding. No uplifts are available.
St Helens: a mix of cross country and enduro riding, with a variety of uplift options. St Helens is a great location in the colder/wetter months.
George Town: a mix of cross country and enduro riding, with a variety of uplift options.
For those seeking the ultimate riding holiday in Tasmania, experiencing most of the state's best trails, you would want to plan a visit of at least one month.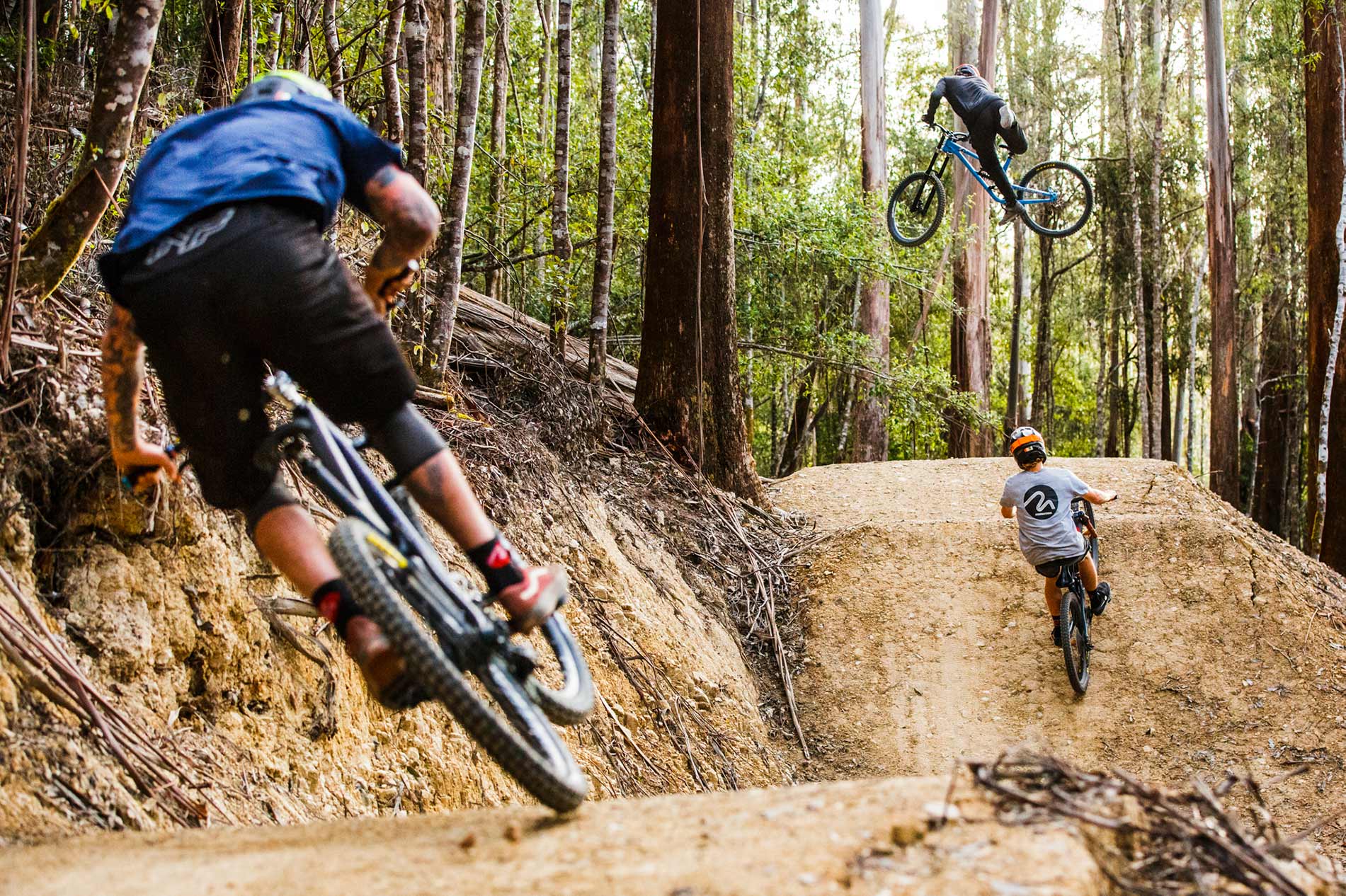 Maydena for Beginners
When first opened back in 2018, MBP did not have a lot to offer beginner riders, but that has all changed! MBP has Australia's largest network of beginner gravity trails, with both Uplift and climbing options available. A number of bike school lessons are available, starting with our Discover Mountain Biking lesson- perfect for those brand new to the sport. You can find out all you need to know about beginner riding at Maydena via our beginner guide.
BEGINNERS GUIDE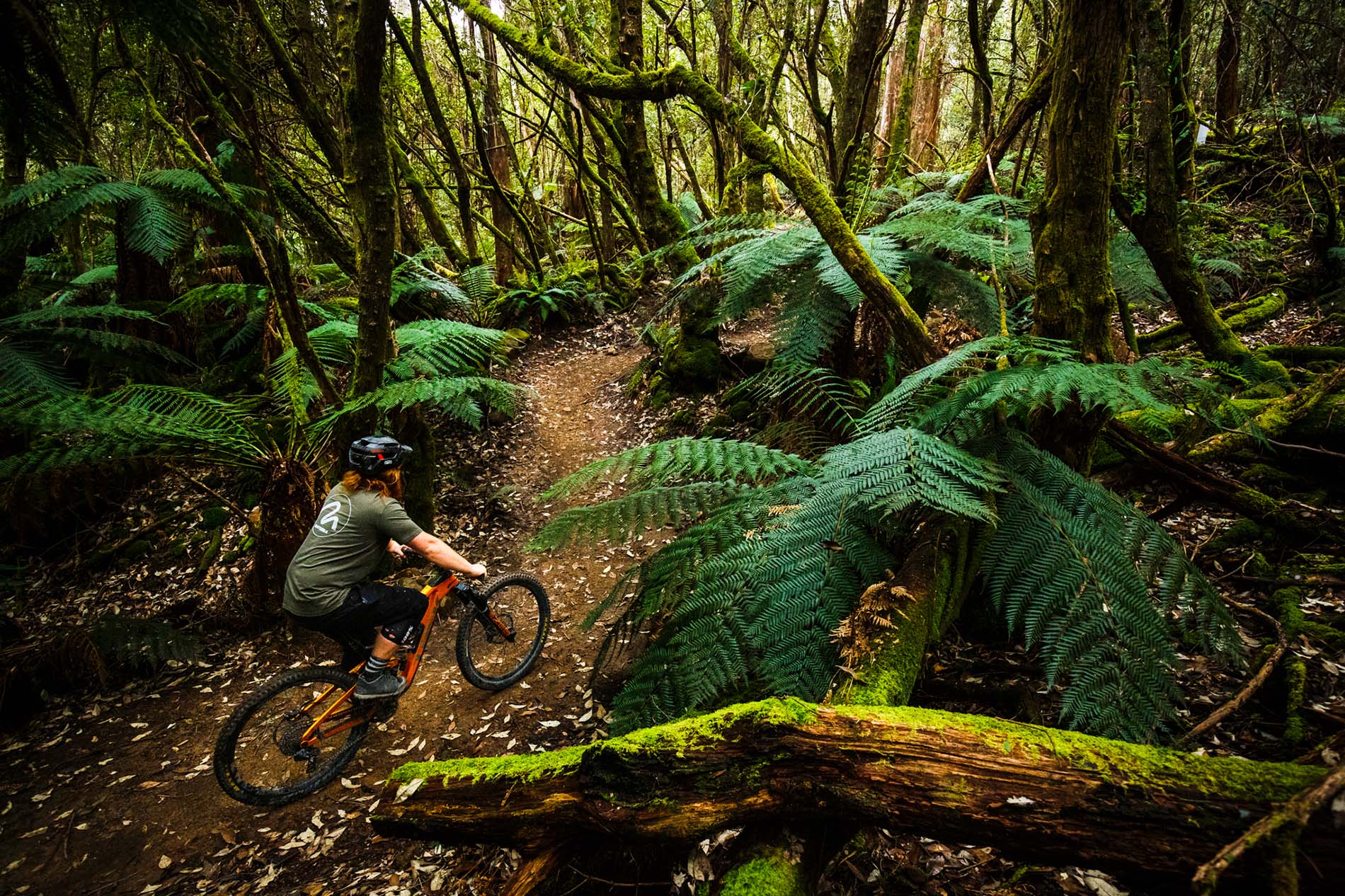 Maydena for Families
Joining us with the family? MBP is the ultimate family holiday experience with 2 Uplift Services, and Kids Lessons over the School holidays there is something for the whole family. The Lower Mountain Uplift gives access to 230m elevation and is priced with families in mind. Purchased on-site at a per run rate (meaning you only pay for what you use), with discounts for multi-uplift passes it offers a more cost-effective option whilst giving access to some of the best beginners to intermediate trails on the lower part of our mountain.
During the School Holidays, we run our Maydena Mountain Kids lessons and Kids 3-Day Adventure Camps to develop your child's mountain bike skills in a fun and social environment. These also have the bonus of giving parents the freedom to ride and explore, while their kids are fully supervised by our qualified and experienced guides.
Learn more about everything for the families at MBP with our Families Guide below.
FAMILIES GUIDE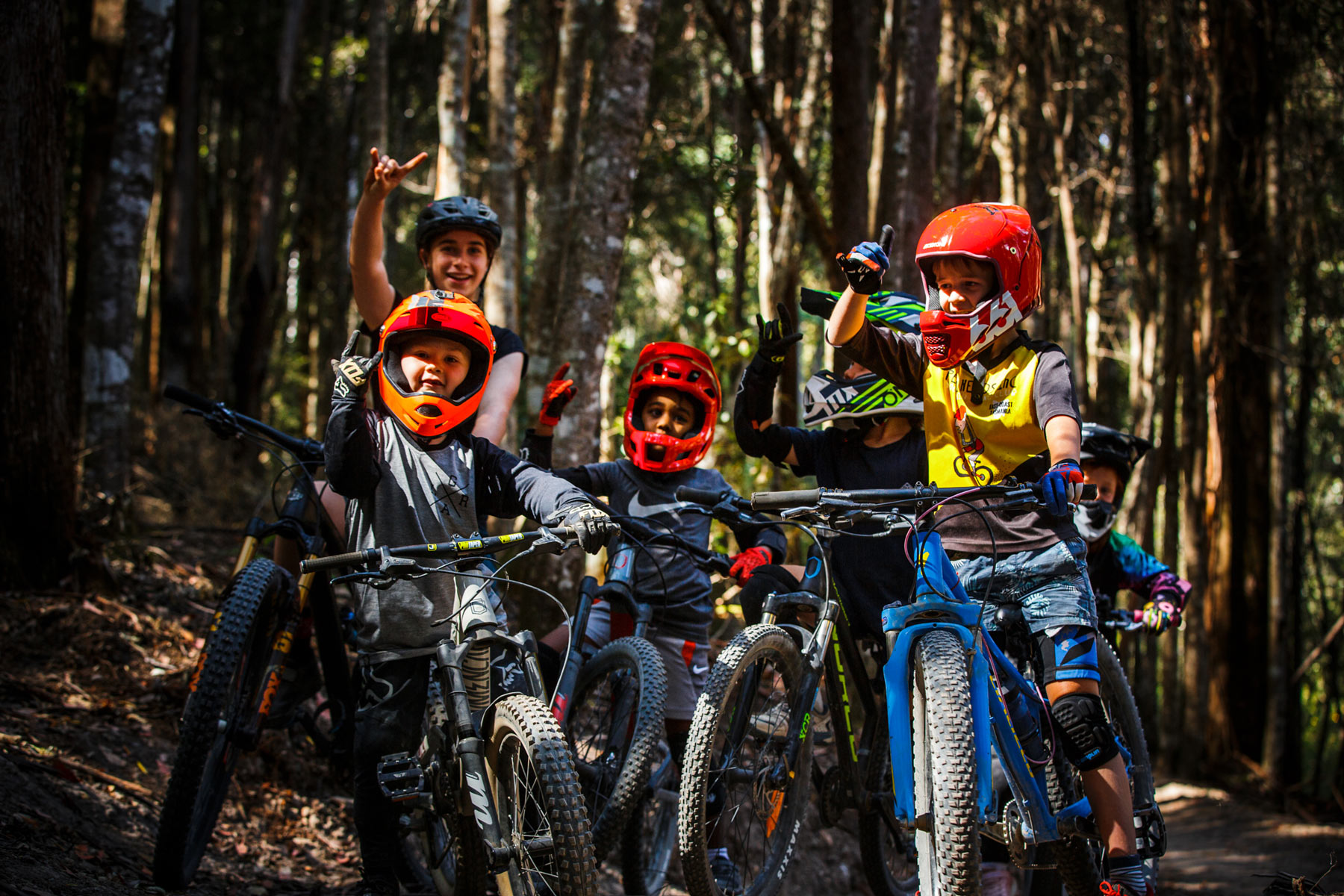 Pass Options
MBP has a wide variety of pass options, suitable for all riding styles and abilities, including both climbing and Uplift Passes.
For those insistent on earning their turns, a day of access to the park's trails will set you back $20 with a Mountain Pass, or free for children 15 and under. Even if you're a dedicated pedaller, you shouldn't miss a lap down the Wilderness Trail from The Summit- this is an amazing descending trail ride that you can access by booking a Single Summit Uplift.
For an easy introduction to the park, we suggest using the Lower Mountain Uplift, which uses a fun ATV Uplift to transport riders to ~230m elevation from our base. Runs are available from $15 each, or via a discounted multi-uplift pass. You can also book a private session on this uplift, where you get the ATV to yourself/your mates for the ultimate MBP experience.
For those looking for the ultimate MBP experience, we recommend grabbing a Summit Uplift pass. These provide the maximum amount of freedom to explore all Maydena Bike Park has to offer. Giving you unlimited uplifts to the Summit and Midline trailheads points, you have access to the entire trail network and the jump, drop and skills parks. On a longer trip, MBP offers discounted multi-day passes for consecutive riding days.
During peak times, MBP frequently sells out Summit Uplift Passes. Pre-booking as soon as your travel dates are confirmed is strongly recommended. A new Flexi Pass Add-On option ($20/booking) ensures that you have the best flexibility if any booking changes are required.
PASS OPTIONS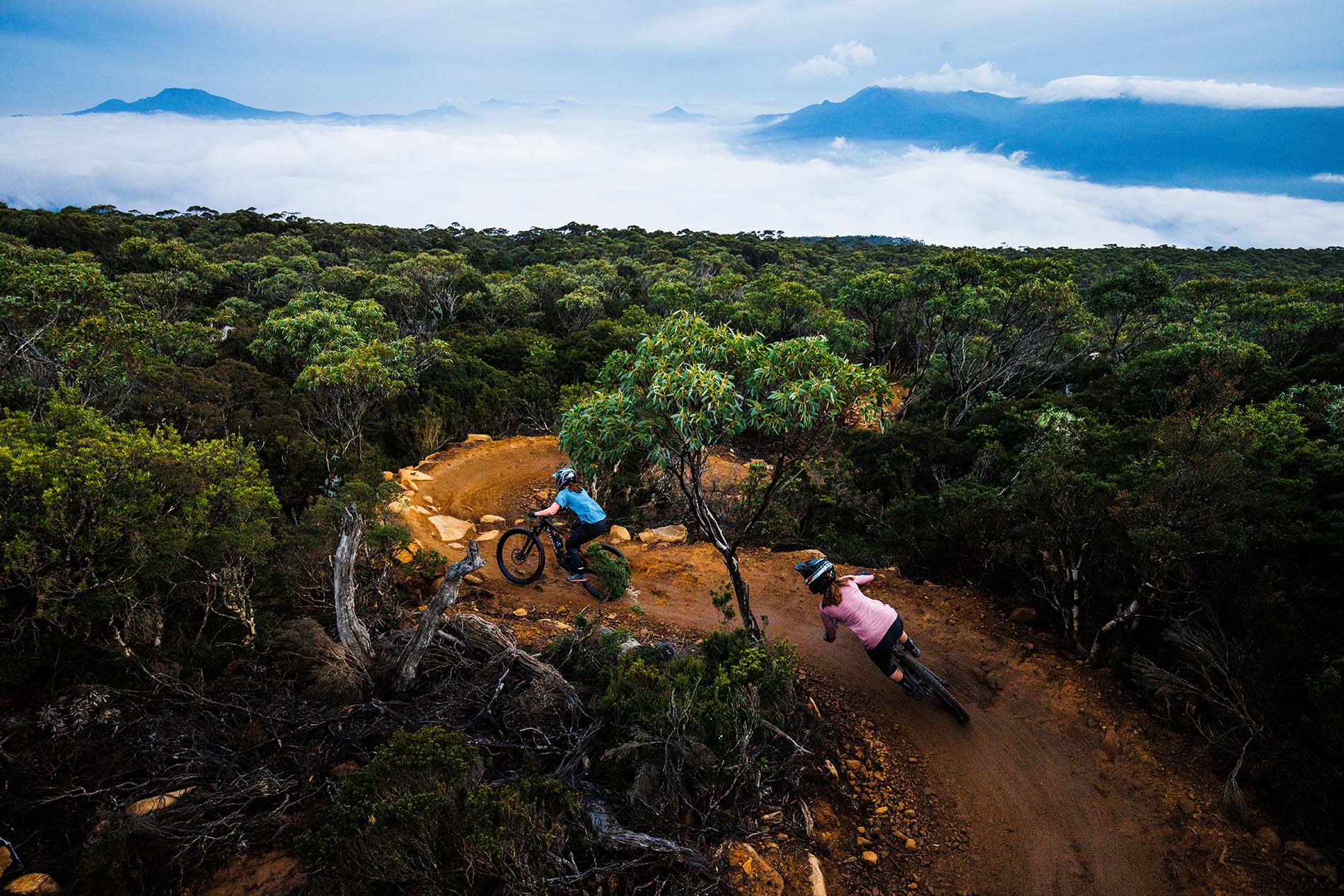 Where to Stay
When staying in Maydena you will be staying in a private rental, available for booking via Airbnb. A variety of properties are available to suit a range of group sizes and budgets. Camping is available at Left of Field (10km from Maydena), or at Mount Field National Park. MBP is currently developing a campground in Maydena, with an anticipated opening date of late 2023. You can find our recommended accommodation picks here.
Hiring a Bike
MBP has a large fleet of bikes, including, enduro bikes, downhill bikes, eMTB's, and kids bikes. All options are available to book on the park's website. Bikes do frequently book out, so we suggest bhttps://www.maydenabikepark.com/bike-hire/ooking as soon as possible. Check out your hire options below.
BIKE HIRE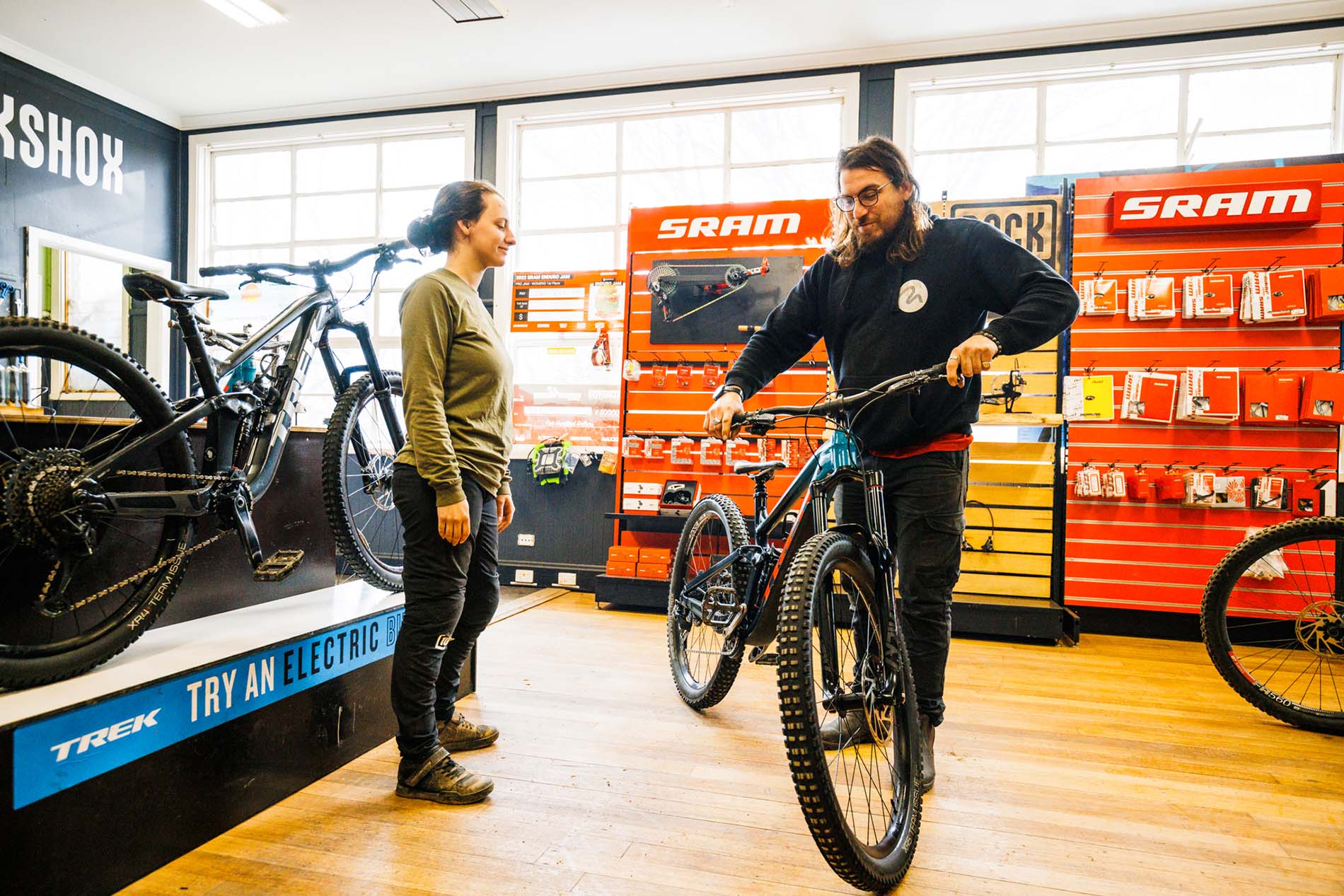 Groceries and Supplies
Two shops sell a small selection of groceries in Maydena, The Bottom Shop, and Fika Time Café. For larger shopping needs you'll need to head to Woolworths in New Norfolk (on the way to Maydena). The nearest bottle shop is in New Norfolk, though you can get takeaways from the National Park Hotel. New Norfolk is the nearest available centre for general supplies such as a chemist, hardware, and ATM. The nearest fuel to Maydena is in Westerway (15 min drive).
BEFORE YOU ARRIVE GUIDE
Where to Eat and Drink
Maydena is a very small town, so don't arrive expecting a major shopping/dining strip! MBP caters for all your needs, with two primary restaurants at the park's base (The Local, and The Canteen). The Canteen services all-day (including dinner) dining, and offers an extensive menu catering to all dietary needs and preferences. The Local offers a more refined dining experience, with high-quality small plates, and local beverages, servicing lunches most days, and occasional dinners.
In the evening MBP offers inside dining in the Dive Bar, which includes a pool table, darts, and access to our full menu from The Canteen.
MBP's iconic mountain-top dining venue, The Summit is open every Saturday through January for a series of sunset dinners. The Summit Sunset Apres offers an incredible multi-course feast from MBP's head chef, Matt as you watch the sunset over the South West Wilderness. This is a dining experience not to forget! Learn more here.
If you're looking for a great traditional pub feed/drink, we recommend a visit to the National Park Hotel (locally known as The Natty). The Natty does a great pub feed, just 10 min drive from Maydena.
For a fancier lunch a little further beyond the park, we recommend Derwent Estate Winery, The Agrarian Kitchen, or Stefano Lubiano Winery.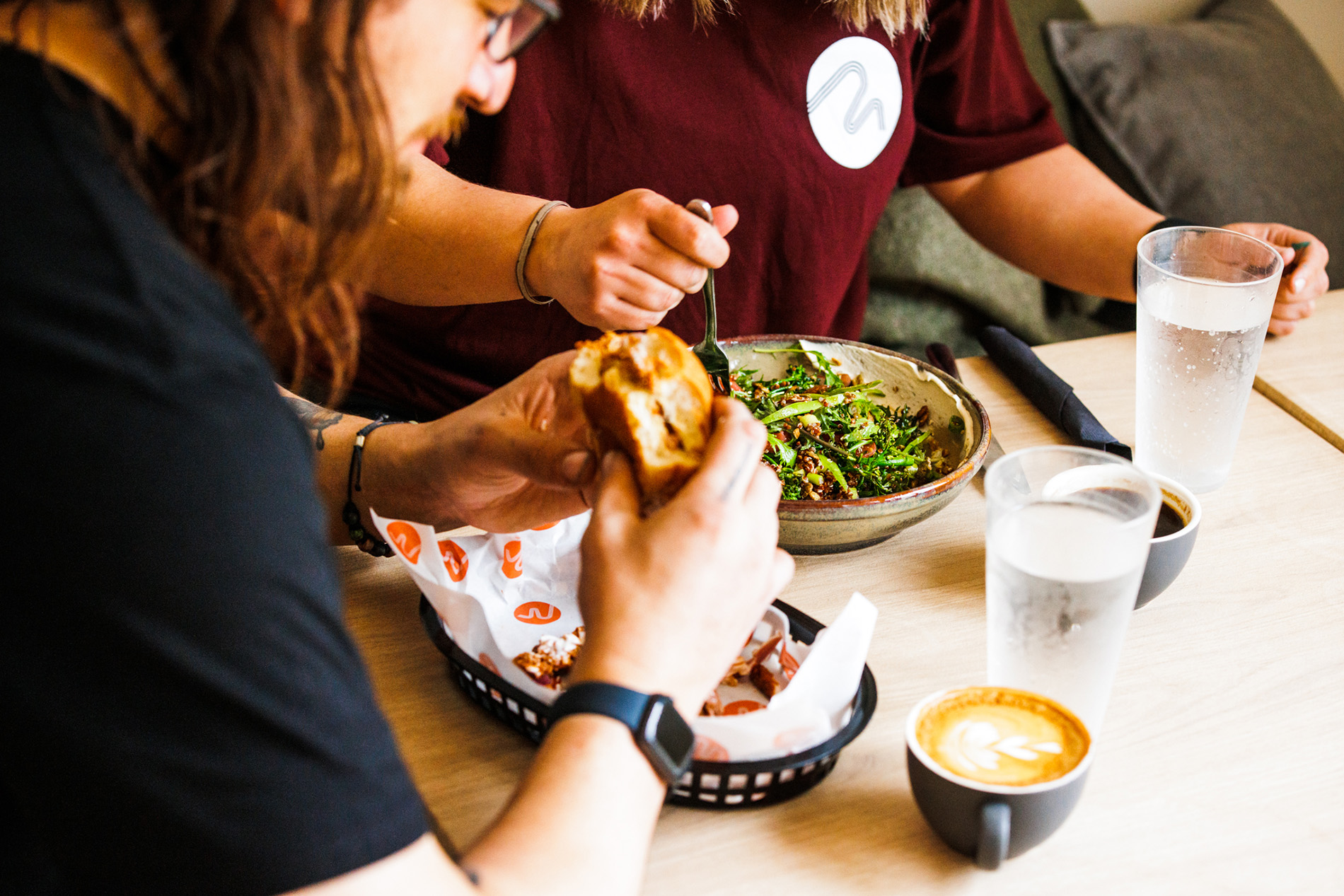 Summer of Events
MBP has always placed a strong focus on events. The park's infamous Summer Sessions and Phat Friday Race Series provide an evening of Uplifts, mates races, and entertainment over the Summer Months. Learn more here.
The SRAM Enduro Jam is MBP's major annual in-house event. Set for December 1-3 2023, The SRAM Enduro Jam is a jam-packed 3 days of racing, social events, and good times. The event gives racers unlimited attempts to set their fastest race time, on two daily race stages. Categories are available for all abilities, including the Sample Jam single-day race for less experienced riders and kids. Find all things SRAM Enduro Jam here.
SUMMER GUIDE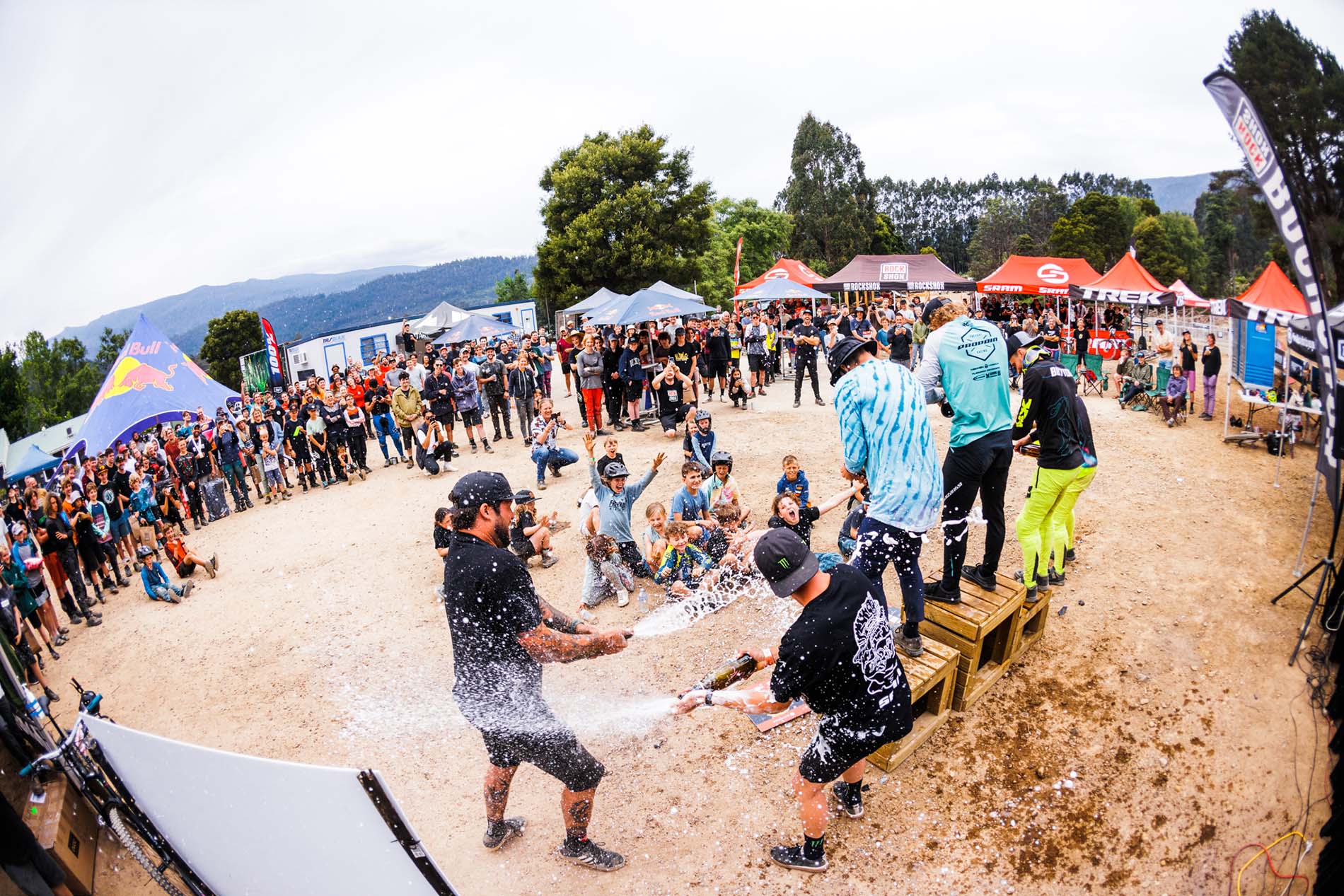 Other Activities around Maydena
It's about more than just the riding at MBP! Below is a list of some of the most popular activities outside the bike park.
Junee Cave– Junee Cave is located an easy 4km ride or drive from Maydena, followed by a short (15 min each way) walk. Simply follow The main attraction is a stunning cave system, where the main river flowing through Maydena (The Junee River) exits the cave system.
There are a number of great (albeit very cold) swimming spots for a dip along the river, which is a great way to finish a big day on the bike.
The Growling Swallett– located approximately 25min drive from Maydena, the Growling Swallett is arguably one of the best natural sites in Tasmania. Drive approximately 20 min along Florentine Rd until you reach a small sign and gate on the right noted as F8 East. Park here and ride approximately 10min along a fire road until you come to the signed trailhead. Stash your bike and walk approximately 25 min into the site. Growling Swallet is a huge cave system where the Junee River disappears into a towering cave.
Lake Pedder/Strathgordon Dam– Lake Pedder is located approximately 1hr drive from Maydena. The huge lake is a destination in its own right, but also has great swimming (Ted's Beach), and access to the iconic Strathgordon Dam.
Russell Falls/ Mount Field National Park– Located just 10 min from Maydena, Mount Field National Park has dozens of walks, from a 10min stroll, to overnight hikes. The highlights are the easily accessible Russel Falls and Horseshoe Falls.